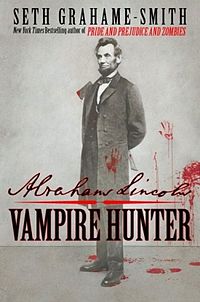 Abraham Lincoln, Vampire Hunter is a novel by Seth Grahame-Smith, released on March 2, 2010. The novel falls into the historical fiction, horror, thriller, comic novel, and mashup genres. On 16 March 2010, the book debuted at #4 on the New York Times bestseller list under the category "Hardcover Fiction", but then dropped to #15 in its seventh week on the list. The book received mixed reviews and was adapted into a film, Abraham Lincoln: Vampire Hunter, in 2012. In 2014 a sequel to the book was released. The sequel is called The Last American Vampire and its Henry story in the 20th Century
Ad blocker interference detected!
Wikia is a free-to-use site that makes money from advertising. We have a modified experience for viewers using ad blockers

Wikia is not accessible if you've made further modifications. Remove the custom ad blocker rule(s) and the page will load as expected.