Abraham Lincoln (film)
Comments

0
30pages on
this wiki
Abraham Lincoln (February 12, 1809 – April 15, 1865) was the 16th President of the United States and a vampire hunter. His mother was killed early on in his life by Jack Barts, a vampire, causing a great hatred in him for vampires.
Lincoln was assassinated on April 14, 1865 by John Wilkes Booth. Just earlier that night, he ironically refused Henry's offer to make him into a vampire, stating that vampires aren't the only thing that's immortal.
Biography
Edit
Early life
Edit
Tragic Loss
Edit
Abe's mother was killed by a supernatural creature, causing him to vow vengeance.
Vengeance
Edit
Abe soon makes enemies with the vampire Adam as well as Jack Barts, the vampire responsible for killing his mother.
Alliances
Edit
Abraham eventually finds a mentor in Henry, who teaches him the difference between "doing something extraordinary and being satisfied with simple vengeance."
Abraham Lincoln is married to Mary Todd Lincoln (Mary Elizabeth Winstead). Their relationship is shown in a romantic, sweet way, contrasting with the dark double life that Lincoln leads as a vampire killer.
Presidency
Edit
Upon becoming president, Abraham Lincoln took the responsibility of emancipating the slaves of America. This, however, has a double meaning because he was not only emancipating them from slavery, but emancipating them from the vampires, who bought them from slave-owners to use for food.
Gettysburg Address
Edit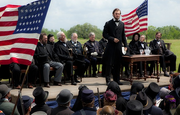 On 19 November 1863, Lincoln delivered his famous Gettysburg Address at the dedication of a cemetery at the site of the Battle of Gettysburg, a decisive Union victory that had taken place earlier in the year. Lincoln did not think his words will last forever but history will show otherwise and it for this his Gettysburg Address is remembered.
Assassination
Edit
After finishing a few more pages in his journal, Abraham conversed with Henry one last time. The conversation, ironically, involved Lincoln refusing Henry's offer to make him a vampire. Lincoln informed Henry that vampires are not the only thing that's immortal.
Lincoln then left for the theater, where he was shot in the back of the head by John Wilkes Booth. As Booth escaped, an Army surgeon immediately assisted the wounded President. He found Lincoln conscious, barely breathing and unable to speak. The doctor made an attempt to clear the blood clot, after which the President began to breathe more naturally. The dying Lincoln was taken across the street to a nearby house where he lost consciousness upon being laid on a bed. Nine hours later, Lincoln died.
Behind the Scenes
Edit
Appearances
Edit